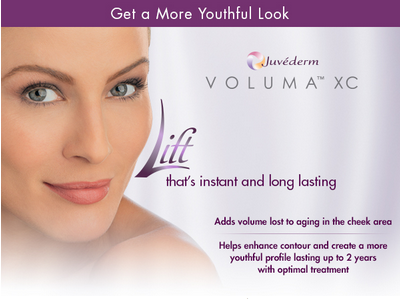 Facial Volumizers

*
Add Natural-looking volume and lift
to your check area
One of the most defining aspects of a youthful face is volume, particularly in the mid-face area. With age, the fat that once padded the cheekbones and provided fullness to the central part of the face begins to disappear. This results in droopy skin that sags, making the smile lines deeper and more noticeable.
Facial volumizers replace collagen that is lost over time and provide structure to the face.
Two leading volumizers are:
JUVEDERM® VOLUMA™ XC & RESTYLANE® LYFT
Fast Facts
JUVEDERM® VOLUMA™ XC injectable gel instantly adds volume to the cheek area. It gives you a subtle lift, helping to restore contour and a more youthful profile for up to 2 years, in patients over the age of 21.
First and only Hyaluronic Acid (HA) filler FDA-approved to instantly add volume to the cheek area, resulting in a subtle lift

Clinically proven to last up to 2 years with optimal treatment


After 24 hours, you should be able to resume your normal activities

Side effects are moderate and generally last 2 to 4 weeks. Common side effects include temporary reactions at the treatment site such as tenderness, swelling, firmness, lumps/bumps, bruising, pain, redness, discoloration, and itching.
RESTYLANE® LYFT -- a slightly thicker version of Restylane for extra correction -- is approved by the FDA for cheek augmentation and the correction of age-related mid-face contour deficiencies in patients over the age of 21. It is designed to restore contour, accentuate cheekbones and smooth wrinkles and lines. Restylane® Lyft provides precise and predictable fullness and restores lost volume in the cheek area with natural-looking results.
*Individual results may vary
Before & After
RESTYLANE® LYFT