Hydrasonic Skin Treatment | Boston *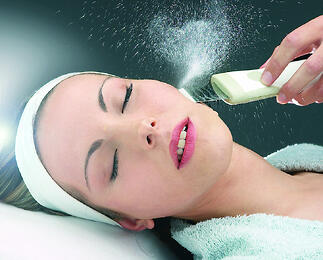 Hydrasonic Skin Therapy
I

magine pure, clean, cool water and a wonderful gentle vibration whirling away surface skin for the most exhilarating, most refreshing skin

rejuvenation you have ever had!
SkinHealth's hydrasonic skin therapy provides thorough, consistent exfoliation without irritation or inflammation. It uses no crystals, salts or chemicals, making it the perfect, gentle alternative for sensitive skin or anyone who need superficial resurfacing for the common photo-aging skin damage.
What is Hydrasonic Skin Therapy?
SkinHealth Centers offer a proprietary hydrasonic protocal.
This is how it works: the specially-trained SkinHealth aesthetician determines the correct hydrasonic settings for your skin and applies warm water to your face. The muti-step process begins as she slowly moves the hydrasonic handpiece across your face.
Step 1: Cleansing
The ultrasonic sound vibrations cause the pores in the skin to open up. As the pores open up, any excess oil or dirt in the pores is coaxed out by the ultrasonic vibrations and flushed away by the water. The pores are totally cleaned out.
Step 2: Exfoliation
The hydrasonic handpeice is equipped with a flat stainless-steel tip. The ultrasound causes the tip to vibrate, and the aesthetician uses it to gently remove dead skin cells for an effective exfoliation.
Step 3: Hydration
The hyrasonic sound wave action, coupled with warm water, cause the pores to open up. The ultrasound vibrations allow the pores to and "drink-in" the warm water that has been applied to the skin. Your skin absorb the water like a sponge for an amazing rehydration.
Step 4: Skin Nourishment
We then layer on several high-potency SkinHealth anti-oxidant serums, anti-aging compounds and specialized hydrating serums. The ultrasonic sounds waves keep the skin's pores open, and the hydrasonic handpiece drives the products into the skin. As the Skinhealth products are absorbed, the ultrasound allows the nutrients and hydration agents to penetrate to the deepest layers of the skin, making it healthier and more resilient.
Step 5: Protection
Now that your skin is totally rehydrated, we want to keep it that way! SkinHealth essential lipids and SkinHealth sunscreen should be applied daily to give you a protective barrier to the elements.
How it Works

The discovery of the benefits of antioxidants signaled the beginning of a new whole-body approach to skin care and aging. Using SkinHealth's proprietary combination of antioxidants and speciali

zed serums matched to the individualized needs of your skin, your skin will be refreshed and radiant.
Sonophorisis takes place when low frequency ultrasound waves, produced by the special wand applicator, coax open microscopic pathways between cells through which nutrient-rich treatment compounds can flow. Antioxidant vitamins and other necessary elements gain access to the deepest layers of t he dermis, where new cells are forming new skin, to make it healthier and more resilient then before.
Using a machine that emits high-frequency sonic waves, hydrasonic skin treatments cleanse, repair and stimulate the skin. The hydrasonic facial is a medically proven treatment that uses ultrasound vibrations to loosen and remove dead skin cells and restores the natural electrical charge to cells. The process is safe: it doesn't use crystals or chemicals and is perfect for sensitive, thin skin, sun-damaged, acne and acne prone skin types.
In a treatment, the ultrasonic machine's high-frequency waves work to:
Exfoliate dead skin cells for clear and radiant skin without the redness and irritation that can sometimes result from microdermabrasion or chemical peels.


Gently stimulate skin to encourage collagen and elastin production. With a series of treatments, fine lines and wrinkles are less noticeable and skin color, tone and texture becomes more even and uniform.


Loosen and remove oil, dirt and sebum from the pores and hair follicles, resulting in less blackheads and breakouts. Ultrasonic frequency zaps bacteria and decongests the pores. The result? Clear, healthy skin with noticeably tighter pores.


Stimulate blood flow and lymphatic drainage through the combination of ultrasound and electrical therapy. This nourishes the skin and gives it a youthful rosy glow.


Facilitate hydration and plumps the skin, thereby filling out fine lines and wrinkles.


Help skincare products do their job by penetrating deeper into the skin. This is especially true for anti-aging and antioxidant serums, creams and masks. Unless an active product is pushed deep into the lower levels of the epidermis, it won't have a lasting, anti-aging impact on the skin.



Safe for most people: The sonic waves emitted by the ultrasound machine aren't harmful to your health. However, if you have an autoimmune disorder, a diagnosed heart disorder or cancer, it's best to skip the ultrasonic treatment. Anyone living with a chronic health condition should check with his or her physician before proceeding with any aesthetic treatment.



Our hydrosonic skin therapy is gentle, non-invasive suitable for most skin types, from acne to rosacea and sun-damaged skin. Because the ultrasonic mechanism is so effective at cleaning clogged pores, painful extractions are unnecessary. Your skin will have that lit-from-within glow - making it the perfect treatment to indulge in before a big event. Once your skin is rejuvenated and healthy looking, maintain your results with monthly hydrosonic facials.
*Individual results may vary