Chemical Peels | Advanced Skin Rejuvenation *
Reverse the signs of aging and the damage of past sun exposure - for all parts of the face

and body.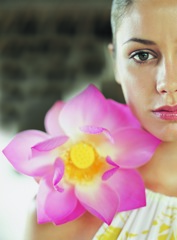 Sun damaged skin, brown "age" spots, fine lines and wrinkles, dry or flaky skin, rough skin texture, uneven skin tone, adult acne, superficialfacial or acne scars, excessive oil on your face... are you bothered by any of these - or by the fact that your skin seems to have lost its healthy, youthful glow? Chemical peels can help you. Chemical peels can also improve whiteheads and blackheads that are seen with acne or excessively oily skin.
What are chemical peels?
Chemical peels are a category of advanced clinical skin rejuvenation treatments that help to reverse the signs of aging and the damage of past sun exposure. There are several different types of chemical peels, as well as different strengths of peels. After a consultation with a SkinHealth Center professional, your own individual chemical peel program will be developed based on your unique needs.

Chemical peels can be performed on all parts of the body: face, neck, chest, back, arms and legs. Although one peel can significantly improve the appearance of the skin, you may require more than one peel to achieve your best results.Each day thousands of our skin cells die, flake off and are replaced by new cells. Chemical peels speed up the process. With all chemical peels, a topical solution is applied to the skin to loosen and remove the upper layers of dead and damaged skin and reveal new, fresher skin underneath. This treatment also stimulates a burst of renewal and collagen growth in the deeper layers of the skin.
Hundreds of chemical peels have been performed at SkinHealth Centers as part of an exclusive SkinHealth treatment protocol. The results have been outstanding.
Who are candidates for chemical peels?
Women and men whose skin looks dull and has a "weathered" look; people with a blotchy complexion, fine lines and wrinkles, dry or flaky skin; people who have acne, acne scars or oily skin; or a variety of other conditions.
There are several types of chemical peels offered SkinHealth. Learn more >
*Individual results may vary