Lip Fillers Boston*
Enhance Your Lips with Cosmetic Fillers
Today, when it comes to lip augmentation, there are amazing progressive medical techniques and products to improve and contour lips and smiles - without any surgery.
Indeed, it seems everyone is doing it, from celebrities to your next door neighbors, everyone is putting a plump in their lip, to enhance what mother nature gave you!
If you wish for a little more volume in your lips, dermal cosmetic fillers can give you luscious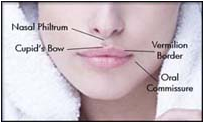 and natural–looking lips.
The subtle, soft --yet definitive changes are made by adding definition to the vermilion borders of the lips and perhaps into the ridges of the nasal philtrum.
(The vermilion border is the upper ridge of the upper lip and the lower ridge of the lower lip. The nasal philtrum, which is normally grooved, is the ridge area between the nose and lips.)
It takes just a small amount of filler injected by an experienced doctor to produce an amazing result. Because most people just need a little, it's an affordable option for everyone!
Advanced Hyaluronic Fillers
To ensure a smooth, natural look and feel, SkinHealth Centers™ uses advanced dermal fillers made of hyaluronic acid, a naturally occurring compound found in your own skin.
The advanced hyaluronic fillers used by SkinHealth's Harvard-trained, board-certified physicians and nurses, include JUVEDERM® and RESTYLANE®
For JUVEDERN® there is Ultra XC and the recently introduced VOLBELLA® XC. (
With the right technique, it doesn't even hurt.
Patient Video
BOTOX
In addition to dermal fillers, BOTOX® may be used to help roll the lips outward, accentuating the results. BOTOX® placement can also help add definition and make thinner, flatter lips look more pleasing.
Your lucious, sassy looking lips will last 6 months or longer…and up to 18 months with maintenance.
Frown Lift
As a part of the aging process, many individuals begin to develop an exaggerated frown, as the corners of the mouth turn down and lines extending from the corners of the downturned lips (oral commissure lines) develop.
Many individuals also have lines that fan out from the corners of the mouth.
To diminish oral commissure lines and gently lift the corners of the mouth, some physicians will place advanced dermal fillers such as JUVEDERM® or RESTYLANE® into the oral commissures, oral commissure lines and/or into the lips around the corners of the mouth. Some physicians will also place BOTOX® in an area that is a little below and to the outside of the oral commissures (in the depressor anguli oris muscle), or along the jaw line, to help lift the lateral aspects of the mouth.
These techniques will gently lift the corners of the mouth. They will also help fill in the oral commissures to return a more natural and friendly look, non surgically.
*Individual results may vary.
Lip Augmentation Before and After*